So you've decided to buy a hanging planter. Before you go hooking it on a hanger or with a ceiling mount, consider all the unique plants you can put into a hanging planter. There are hundreds of possibilities between flowers, plants, and greenery. Here are just a few of our favourites.
Impatiens
Impatiens are a very pretty flower but dewy moisture is their enemy. When you get them off the ground and into a hanging planter, impatiens are in an optimized environment to avoid high amounts of moisture or aggressive moisture.
Lobelias
Lobelias are a fuzzy, spilling seasonal flower plant that will usher in spring like no other flower arrangement can. The electric blues of lobelias inside a hanging planter flower pot will fill a household with excitement.
Fuchsias
Fuchsias are a multi-color beauty. Featuring a nice palette of kind, romantic summer-ready shades, fuchsias love the shade. They are a go-to perennial for placement in a quality hanging planter.
Petunias
Petunias are a rich blooming collection of flowers. If left outside, they'll collect the attention of hummingbirds and butterflies. Try them in your eggshell self-watering hanging planter indoors or outdoors.
Begonias
Begonias are a tubular, pendulous flower that resembles slightly the look of the rose. Begonias provide a gentle touch and can add a lot of color to the room.
Million Bells
Million Bells are closely related to petunias. They are a must-have plant for hanging planters because of how easy it is to keep them alive. They suit many temperatures, produce no seed, don't require deadheading, and will stay in bloom so long as they have moist soil and enough sunlight. With a self-watering planter, they have everything to stay alive and looking their extravagant best.
Lantanas
Lantanas are small, tiny flowers in vibrant clusters. They are a wild shrub that can overtake a garden which is what makes them so good for an indoor hanging planter. Lantanas will spread but not exceed the borders of a contained planter.
Dwarf Lavender
Dwarf lavender plants are deep in color and yet delicate on the eyes. The soothing classic lavender scent is welcome in any gardener's home. If you don't have lavender already in your garden, consider some for your planter.
Painted Lady
A painted lady is a drought-resistant hanging plant. Succulent-esque, it's a tough plant to kill. Although a hanging planter from Living.ca is self-watering, it doesn't hurt to have some extra reassurance that your plant won't die. A painted lady can withstand with great ease extended dryness.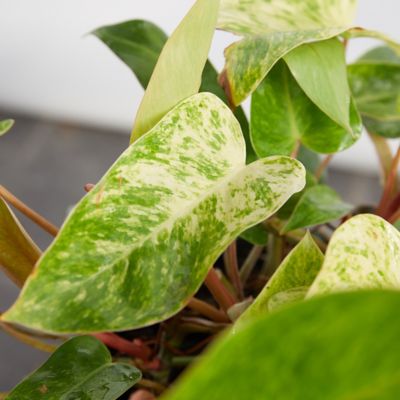 There are some truly spectacular plants you can put in a hanging planter. This is just the start. Almost anything can be put in a hanging planter in the right conditions. Before you decide, Living.ca is where to find the best in gardening accessories, indoor and outdoor planters, and more. Shop with us today.